I've been arguing for years that Vietnam's future as a big-time golf destination isn't all it's cracked up to be, that the fundamentals of the nation's golf business simply aren't solid. Now, thanks to
an article by James Hookway of the

Wall Street Journal,
I know I'm right.
Hookway writes that increasing numbers of wealthy Vietnamese now view golf-club memberships as an investment opportunity, the idea being that they'll buy low today and cash out merrily tomorrow. And yes, it's true that the value of golf-club memberships in Vietnam has been increasing of late. But as we all know so well here in the United States, past performance doesn't necessarily guarantee future results.
Personally, I'm betting that the value of these investments will crash. There's plenty of precedent. The market for golf memberships crashed in Japan, in Spain, in the United Kingdom, in the United States, and everywhere else that the price of entry was artificially inflated by the newly rich. In the illusory world of phony privilege, what goes up must come down. It's just a matter of time.
Here's a condensed version of Hookway's story:
With property prices sliding and the local stock market in free fall, some people [in Vietnam] are investing in golf club memberships in a last-ditch bid to protect their savings from being ravaged by soaring inflation and a fading currency.

Prices for club memberships around Hanoi have risen from around $6,000 in 2004 to roughly $30,000 now, with some of the plushest, complete with swimming pools, villas, and tennis courts, reaching $130,000. That's not as expensive as top clubs in Japan or Singapore, but it is still a large slice of change in a country where the average income is around $1,200 a year.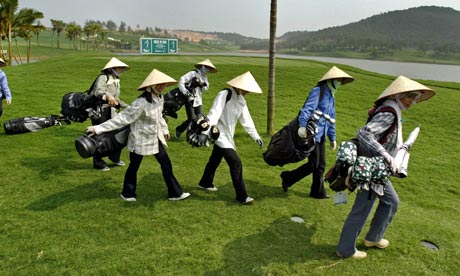 "Buying a membership is better than putting cash in the bank, better than putting it in the stock market, and better than putting it into gold," said Do Dinh Thuy, a 48-year-old management consultant, amid the steady thwack of balls being driven out onto a local range here in Hanoi's suburbs. He recently bought a third membership, "and that one's not for playing -- it's for investment."

At first, wealthy Vietnamese hedged against a sliding currency by investing in stocks and, after that market crashed, property. But now a speculative real estate bubble is popping, creating a fresh headache for the country's new rich as they scramble to hold on to wealth. Hence the new swing to golf. . . .

What makes many Vietnamese think that golf club memberships are a one-way ticket to profit is their leaders' disdain for the fairways -- and especially Communist Party bosses' moves to limit new courses.

The supply shock began two years ago. Prime Minister Nguyen Tan Dung froze plans to build scores of new golf courses across the country. Mr. Dung ruled that golf courses were gobbling up valuable farmland at a time when world food prices were spiking to record highs and many Vietnamese were struggling to find enough to eat. New golf course applications were placed under vigorous scrutiny. Many were turned down. . . .

More recently, Vietnamese officials have taken to banning activities which they feel harm the national interest. Over the past year, for instance, the government has banned lip-syncing to popular songs on television shows and ordered Internet service providers to shut off online video games between the hours of 10 p.m. and 8 a.m. . . .

While the government's crackdown might be making some golf club members richer, joining a club is a riskier investment than many Vietnamese might realize. The value of memberships in Japan crashed in the 1990s and has slumped elsewhere in Asia over the past decade as golf slowly lost some of its exclusive cachet. And playing the sport doesn't always require a pricey membership.

It is still possible to pay green fees to tee off at many Vietnamese clubs, and at least one bank has a deal whereby customers can deposit money and get free games at golf courses near the main cities, Hanoi and Ho Chi Minh City.

Golf market experts here believe the government's abhorrence of the game makes club memberships as valuable as other things the authorities don't much like, such as gold and U.S. dollars, and could spare Vietnamese investors the bogey which others have hit.

"Golf memberships are a rare item; it will stay that way," predicted Truong Thanh Huyen, a 27-year-old trader. She recently brokered the purchase of a membership in Nha Trang, southern Vietnam, for $19,000. "Now the open market value is up to $25,000," Ms. Huyen bragged, checking the latest prices on her iPhone.

Back at the Hanoi driving range, Mr. Thuy agreed. "But you've got to get in fast," he said. "That's one of the key principles of capitalism."