Can Arnold Palmer live forever?
The King's company, Arnold Palmer Enterprises, is doing its best to ensure that he does. Not as a golfer or golf course designer, to be sure -- those days are already gone -- but as a salesman whose pitch can resonate with people who never once saw him smack a Titleist.
Palmer has long been golf's premier salesman. And now his handlers are developing new marketing programs that will enable him to continue hawking clothes, tea-based drinks, motor oil, and who knows what else long after he sinks his final putt. Men may die, but brands endure.
Advertising Age
has given us
a preview of Palmer's next life and the people who are in charge of it.
My question: Do these marketing efforts enhance Palmer's legend or diminish it?
Arnold Palmer did not invent sports marketing. But he nearly perfected it, amassing a global empire of licensing deals and endorsements that seems just as relevant today as it was when he first began building it back in the 1950s.

Now the 82-year-old golfing legend is out to make sure his dynasty outlasts him.

Arnold Palmer Enterprises, which houses marketing ventures from wine to sunscreen, is in the midst of a branding review with the aim of reaching a generation of fans who weren't even born when he was racking up tour wins.

"We're at a crucial point in Mr. Palmer's career," said Cori Britt, vice president of Arnold Palmer Enterprises. "We're looking forward to ensuring the Arnold Palmer brand is positioned for success 20, 30, 40, 50 years from now."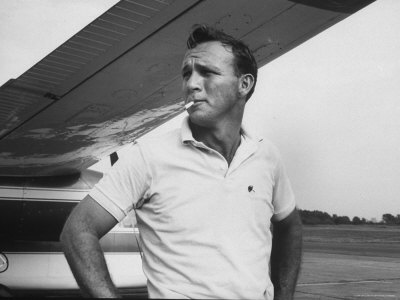 As it looks to the future, the group is culling nonstrategic licenses while seeking out new ones that dig deeper into Mr. Palmer's past, evoking a 1960s-era younger, stronger Arnie in hopes of capitalizing on the retro fever captured by the likes of the hit TV show "Mad Men." Among the projects in the pipeline are a new clothing line featuring styles Mr. Palmer wore decades ago that seek to recapture the spirit that this year vaulted him onto
GQ
magazine's list of "The 25 Coolest Athletes of All Time." . . .

And he remains a gold mine even at a golden age. Mr. Palmer, who retired from competitive golf in 2006, had $36 million in earnings last year, ranking him No. 3 on
Golf Digest
's "all-encompassing money list," which includes on-course and off-course revenue such as endorsement and licensing fees. He was superseded by only two active players: Tiger Woods and Phil Mickelson.

"The fact that he's still earning $36 million a year is a real testament to the power of his brand," said Jim Andrews, senior vice president at IEG, a sponsorship, research, and consulting firm.

Indeed, Mr. Palmer's appeal, as measured by the Marketing Arm's Davie Brown Index -- which quantifies influence, awareness, and other celebrity attributes -- is more than double that of Luke Donald, today's No. 1 PGA Tour player, according to the Golfweek/Sagarin Performance Index. . . .

[Mr. Palmer's] classic cool look will be showcased in a retro clothing line called Arnie, set to launch in February. Three upscale collections will feature styles he wore in the 50s (small collars and short plackets), 60s (wider-legged pants and collars), and 70s (more subdued colors). . . .

Mr. Palmer is also growing his partnership with Arizona Beverages, which is expanding distribution of its recently launched Arnold Palmer Hard Half & Half, a spiked version of the lemonade-tea mixture the golfer made famous long ago. Arizona, which markets Hard though affiliate Hornell Brewing Company, plans to grow distribution to 21 states from five, following the success of the 10-year-old nonalcoholic Half & Half, which has developed a strong base of young consumers.

"His status as `The King' gives him a charisma that is hard for a young demographic to resist, even if they have never seen him play professionally," said Arizona spokeswoman Jackie Harrigan. . . .

Mr. Palmer's marketing machine first gained steam in 1960, when he paired with agent Mark McCormack, who went on to found legendary sports agency IMG. (Mr. McCormack died in 2003, but Mr. Palmer remains with IMG.)

"A brilliant part of Mark's marketing strategy was never to tie my endorsement of a product to how I was faring on the golf course," Mr. Palmer says on his website. "His aim was never to position me as a `winner' because there always comes a day when a winner no longer wins."

Rather, the strategy touted Mr. Palmer's endurance, reliability, and integrity. And years later, Mr. Palmer is still finding marketing success based on that philosophy -- along with lucking into the fact that the 60s are in. . . .