canada

Revelstoke: A Job or a Snow Job?
Is it possible to read too much into a want ad?
I ask because Northland Properties is searching for "an environmental specialist" who can go to work on a "subdivision and golf course project" at Revelstoke Mountain Resort in British Columbia.
The original master plan for Revelstoke, whose ski area opened in 2007, calls for 550 single-family houses, 850 townhouses, 1,500 condos, 2,000 hotel rooms, a pedestrian village with retail and commercial space, and four golf courses. Way back when, the resort hired Nick Faldo to put his "signature" on the first of those courses, an 18-hole track that was supposed to be open by now.
I haven't heard any golf murmurs from Revelstoke for years, but something is clearly happening with Faldo's overdue course. Last summer, according to the
Revelstoke Times Review,
the resort began clearing property "in the area of the golf course" but was forced to stop because the work "infringed on some riparian areas." Hence the need for an environmental specialist, presumably.
Unfortunately, Northland isn't willing to shed much light on its construction plans. After what was described as "a brief conversation" with the company's chief operating officer, the newspaper reported that "the job was posted so the resort could deal with the environmental issues before development of the golf course can begin."
Small steps, apparently. Enough to keep hope alive.
Incidentally, Faldo was going to design the track with Brian Curley.
Some information in this post originally appeared in the September 2008 issue of the World Edition of the Golf Course Report.
united states

Donald Trump, Now & Forever
I'm as tired of writing about Donald Trump as most of you are of reading about him. But after three weeks of operating this blog as a Trump-free zone, I can no longer deny the guy his keystrokes. He simply makes too much news.
Here's a little of what the most polarizing figure in golf has been doing of late:
-- Trump's on-again, off-again pursuit
of the Point Lake & Golf Club in North Carolina is on again. A majority of the club's members have come around to seeing things Trump's way, and
the

Charlotte Observer

believes a sale could take place "within weeks."
Trump, you'll remember from
posts in early
and
mid December 2011,
has been trying to buy the Point and its Greg Norman-designed golf course for more than a year. He longs to make it "amazing" -- the best in the state -- and to give it a new name with real pizazz: Trump National Golf Club Charlotte. Like so many courtships, however, this one has had its ups and downs. Just weeks ago, when some club members got cold feet and went public with their reservations, Trump walked away from the negotiating table in a huff, fuming about "a lack of direction" at the club. Now, at least from his perspective, the members are clearly on the right track again. The club could hold a formal vote on the sale by the end of the month.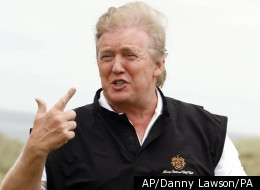 -- Trump has finally revealed why he's so hell-bent
on preventing Scottish officials from building a wind farm that would be visible from the fairways of Trump International Golf Club Scotland. "I am doing this to save Scotland," he heroically acknowledged in
a letter to a Scottish minister
who's capable of derailing the project. In other words, it's patriotism, not profit, that's led Trump to allocate what he calls "a substantial sum of money" (no sums were provided, alas) to underwrite "an international campaign to fight your plan." Speaking like a true man of the people, Trump contends that "the people of Scotland will forever suffer" if the wind farm is built, largely because tourists who might have otherwise booked rooms in his high-priced hotel "will be going to other countries that had the foresight to use other forms of energy." I'm not foolish enough to predict where Trump goes next with his vitriol, but I'm thinking his opportunity to win friends and influence people in the U.K. may be gone with the wind farm.
-- Trump wants to build a 1.5-acre cemetery
along the fifth fairway at Trump National Golf Club Bedminster in northern New Jersey. "At some point you have to think about this stuff,"
one of Trump's associates told the

New York Daily News.
Plots will be made available to the club's well-to-do members, and part of the grounds will be reserved as a tasteful final resting place for Trump and his family. No prices have yet been set, and no, Trump hasn't said when he's planning to move in. Whenever the day comes, though, may he rest in peace.
And in Other News . . .
. . . japan
Japan's moribund economy, coupled with last year's earthquake and fallout from the ensuing nuclear disaster, has claimed a victim in the nation's golf industry: Taiheiyo Club, a course management firm, has filed for the equivalent of bankruptcy protection. The company may be familiar to some of you. Taiheiyo Club made its presence felt on this side of the Pacific back in 1992, when it bought the Pebble Beach resort from Minoru Isutani and his rumored yakuza financiers. Seven years later, Taiheiyo Club sold the iconic resort to its current owners, a group led by Clint Eastwood and Arnold Palmer. Today the company's portfolio consists of 18 golf courses, most of them in the suburbs of Tokyo, Kobe, Sapporo, and Fukushima. The
Financial Times
says that Taiheiyo Club "embarked on an aggressive growth strategy during the 1970s, 1980s, and 1990s" but fell on hard times when financially squeezed corporations "stopped funding expensive golf junkets and the number of golfers in Japan began a steady decline, leading to a sharp drop in revenues." The newspaper reports that Taiheiyo Club will be "rehabilitated with financial support from Accordia Golf," a much larger management company whose finances are also nothing to write home about.
. . . china
Here's another chew-on-this tidbit from the interview with Ken Chu referenced in this blog last Sunday: When he was asked what golf means to him, the CEO of the Mission Hills resorts and their nearly two dozen golf courses said, "Golf is a business language, a social networking tool, a medium to link the East and the West." Chu may have felt he was having a lost-in-translation moment, as he quickly added: "I didn't think like this until I returned to Hong Kong from Toronto 16 years ago. Before then, I regarded golf as merely a retirement sport."
. . . wild card click
A lesson in how to conduct yourself at a job interview.